Why Should I Be Concerned About Bowing Walls?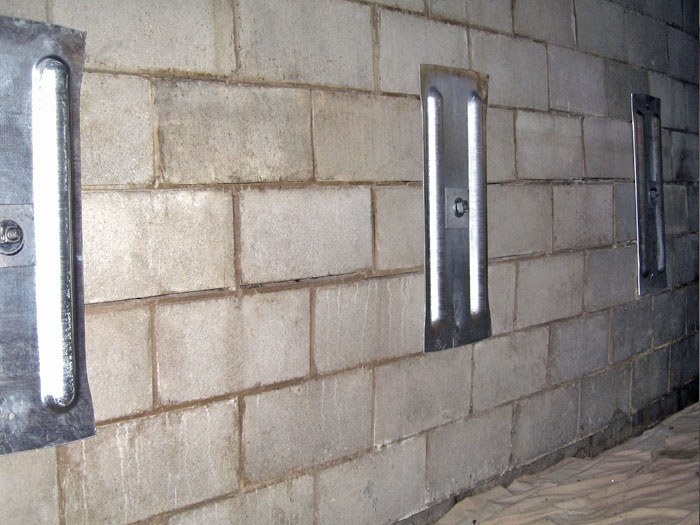 A home is usually the biggest investment you can make – not to mention the value of the possessions contained within it. A cave-in can cause irreparable damage to the house and contents, making it important to secure, stabilize, and correct deteriorating basement walls before it's too late.
Bowed, cracked, or leaning basement walls are a sign that something is going very wrong with the structural integrity of your property. This issue happens when hydrostatic pressure from too much water building up against the walls, or the soil that is around your property swells and exerts pressure that forces the foundation wall inward. You'll want to correct this issue as soon as possible with bowing wall repair systems since your foundation is what holds the entire home together.
How Can I Fix Bowing Walls?
In the past, homeowners had few choices for repairing foundation walls, except to excavate around the wall or build an entirely new basement wall. This solution is expensive, time-consuming, and destructive to landscaping. Not only that, the problem can happen again if the wall is not properly rebuilt or if steps are not taken to correct the causes of the initial deterioration.
A Grip-Tite® Wall Anchor System is the Solution!
The Grip-Tite® Wall Anchor System utilizes proven engineering methods to secure and stabilize deteriorating basement walls. What's more, the system works on any kind of basement wall – concrete block, clay block, poured concrete, timber, or stone.
The system consists of an interior wall plate, an exterior soil anchor, commonly referred to as a "deadman anchor" and a connecting steel rod to stabilize foundation walls by counteracting pressure exerted against the wall.
What Are the Advantages of a Wall Anchor System?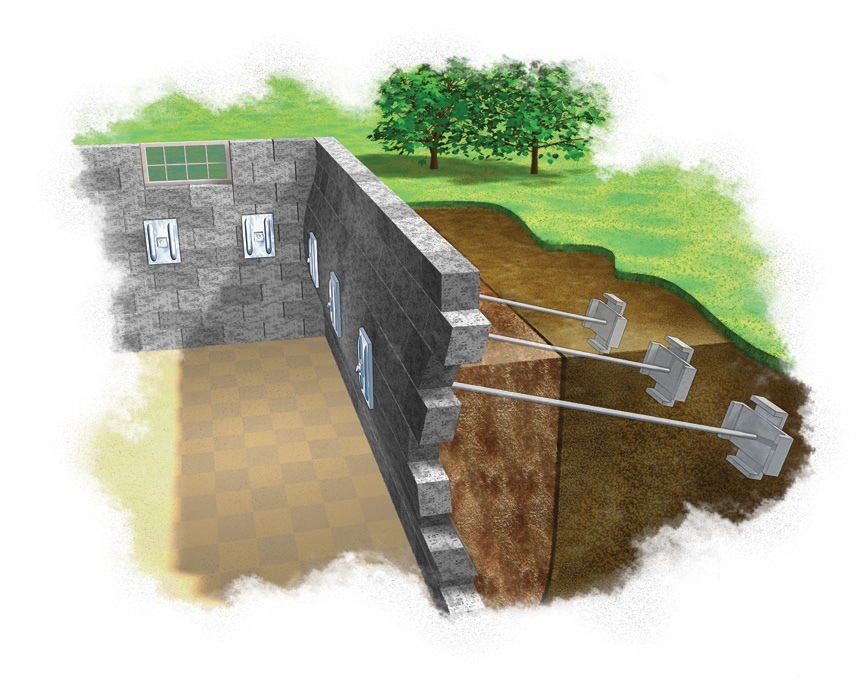 The system is a property owner's alternative to completely removing and rebuilding basement walls that have become cracked, leaning, or bowed as a result of pressures exceeding the allowable design capacity of the wall.
Grip-Tite® Wall Anchors are spaced in different locations along a wall and rod extenders can be used to avoid decks, flowerbeds, and other landscaping.
Installing the Grip-Tite® Wall Anchor System usually takes less than one day, and the technicians will leave your home and lawn as it was before the installation. Anchors are placed in specific locations along the wall, and rod extenders can be added to avoid all decking, cement work, flower beds, and other landscaping. Because the system works with the wall and ground, structural changes to your house are unnecessary.
Whether the cracking or bowing is caused by hydrostatic pressure, expansive soil or another problem, don't risk the investment in your home by failing to address the issue.
Benefits:
Minimal excavation or disturbance to property, lawn, or landscaping.
Installed in a day or less.
No wait – It can be installed year-round.
Easily installed in areas with decks, landscaping, or flowerbeds.
Cost-effective- There is less cost involved than re-building foundation wall(s).
Trust Grip-Tite
Whether you're a homeowner or a foundation repair specialist, you can trust Grip-Tite to provide you with the highest quality, cutting-edge products every time. We put a lot of research and testing into our products before they are available to you, the consumer. We want you to trust that you're getting the best deal every time. If you're interested in purchasing a wall anchor system or are looking for someone who can install it for you, give us a call today or check out our installer finder online. We welcome any questions, so don't hesitate to call now!