The Foundation Problem
Plans to renovate vacated store space into a movie theater included removal of the entire superstructure with only the below-grade, lower level foundation walls remaining. However, before the main level floor system could be removed, approximately 430 feet of foundation wall had to be laterally braced. The new floor system for the theater would then re-support the tops of the walls.
The Foundation Repair Solution
The construction manager selected helical tiebacks over grouted anchors and an interior bracing system. Helical tiebacks offered advantages of installation with relatively small equipment and no mess associated with pumping cement grout. Helical tiebacks could also be installed above the lower level floor, on the wall face, and "out of the way" for the demolition and construction operations. Upon referral from a local architect, the construction manager contacted Grip-Tite's local certified dealer to install the helical tiebacks.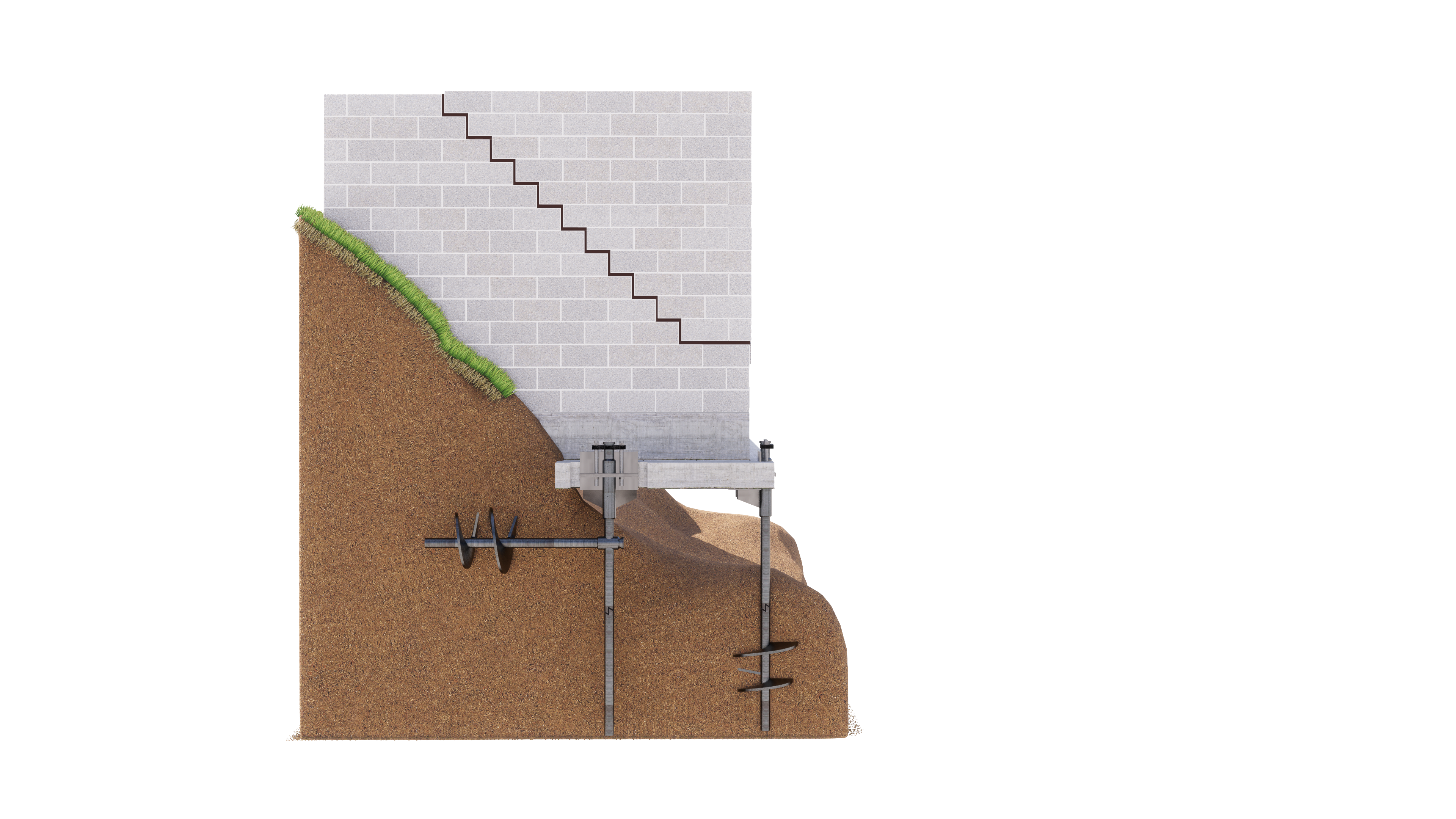 Soil borings completed around and within the building footprint encountered native stiff to very stiff silty clay (Peorian loess) within the upper 38 feet of the soil profile, as measured from the exterior ground surface. The loess is underlain by lean clay glacial till.
The Helical Tieback Specifications
The tieback system design included 76 tiebacks with a typical spacing of five feet. Tiebacks were positioned six feet below the top of the 16-foot high foundation wall. Each tieback had a design load of 20,000 pounds (20 kips). The helical tieback configuration consisted of a 1.5-inch round corner square bar with a triple-helix lead section (three 10-inch diameter helix blades) followed by two triple-helix extensions (three 10-inch diameter blades). The 10-inch helix blade size was selected to limit the core-hole diameter through the foundation walls. Standard extensions advanced the tiebacks to lengths of at least 30 feet. The tiebacks were installed to torque values that correlated to capacities of at least 1.5 times the design load.
An engineered waler system of HSS 6x4x3/8-inch tube steel provided bracing/support for the wall between tiebacks and between tiebacks and existing column locations. A "chair" was fabricated to allow pre-tensioning of the tiebacks and lock-off. Each tieback was pre-tensioned to at least 1.25 times the design load. The three walls braced by the tiebacks were monitored for approximately four months during construction with no measured deflection.
Choose Grip-Tite
As you can see from this case study, Grip-Tite has the best products and services for your money. No matter the foundation situation, we can help, whether it's providing you with the tools to do it yourself or by helping you find a qualified installer in your area. If you're ready to experience the difference, give us a call today to get started!