The Foundation Repair Solution
The selected repair option included removing the existing slab, removing the affected subgrade soils, placing select fill, reconstructing and/or repairing the HVAC system, and then replacing the floor slab. Prior to the complete removal of the floor slab, tiebacks had to be installed along the bottoms of the east and west foundation walls to prevent wall movement due to the unbalanced earth pressures.
Soil boring information was available from the construction of the original building, the construction of the north addition, and from floor slab evaluation studies. The tiebacks would generally penetrate native silty clay Peorian loess along the west wall line and silty clay fill soils (with construction debris) along the east wall line.
The tieback system, designed by Grip-Tite, included two tiebacks per bay along the west wall and three tiebacks per bay along the east wall, each with a design load of 13,000 pounds (13 kips). Minimum length criteria from the wall face to the closest helix blade were also specified at 10 feet and 15 feet for the west and east walls respectively. Tiebacks were not required within the sunken mechanical room in the southeast building corner and within the areas of the east bathrooms where the foundation walls were braced by interior walls.
Products Used
Twenty-six (26) helical tiebacks were installed. The tieback configuration consisted of a 1.5-inch round corner square bar with a triple-helix lead section (10-inch, 12-inch, and 14-inch diameter helix blades) followed by one (1) double-helix extension (two 14-inch diameter helix blades). Standard extensions advanced the tiebacks to lengths of 25 to 30 feet. The tiebacks were installed at angles of 15 to 20 degrees for ease of installation and to avoid utilities that parallel the foundation walls.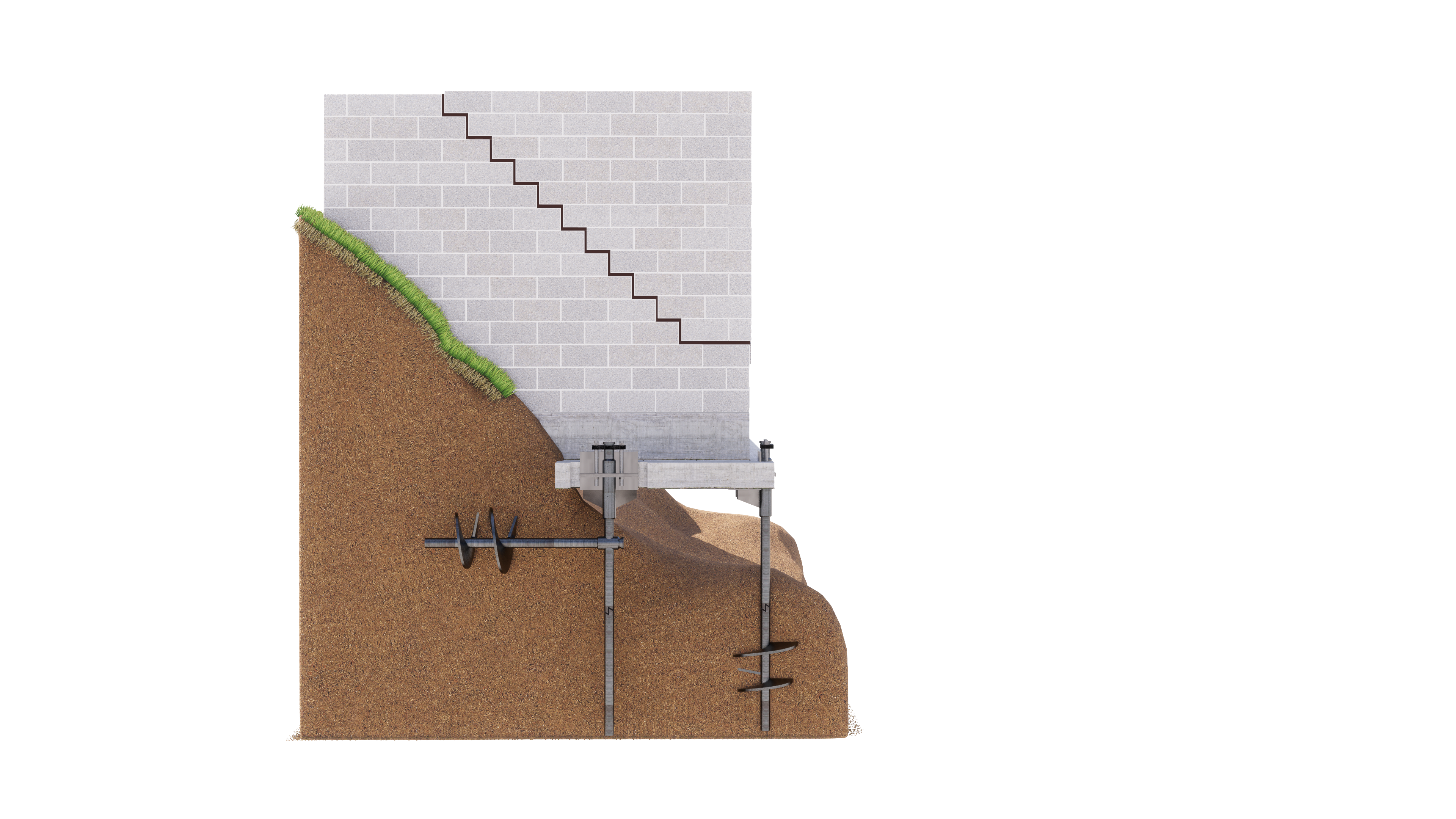 Tieback capacities, estimated by correlation to installation torque, were at least twice the design load. The tiebacks were connected to the bottoms of the walls with a custom-designed bracket and pre-tensioned to at least 1.5 times the design load. The 26 tiebacks were installed and pre-tensioned in five days.
Trust Grip-Tite
We are your number one choice for foundation repair and services across the United States. We have spent years researching the best materials and processes to ensure structures stay sound for years to come. As you can see, each project location is thoroughly inspected and a plan is brainstormed before installation or changes are made. Call today to get started on your own property or to learn more about our available installers!